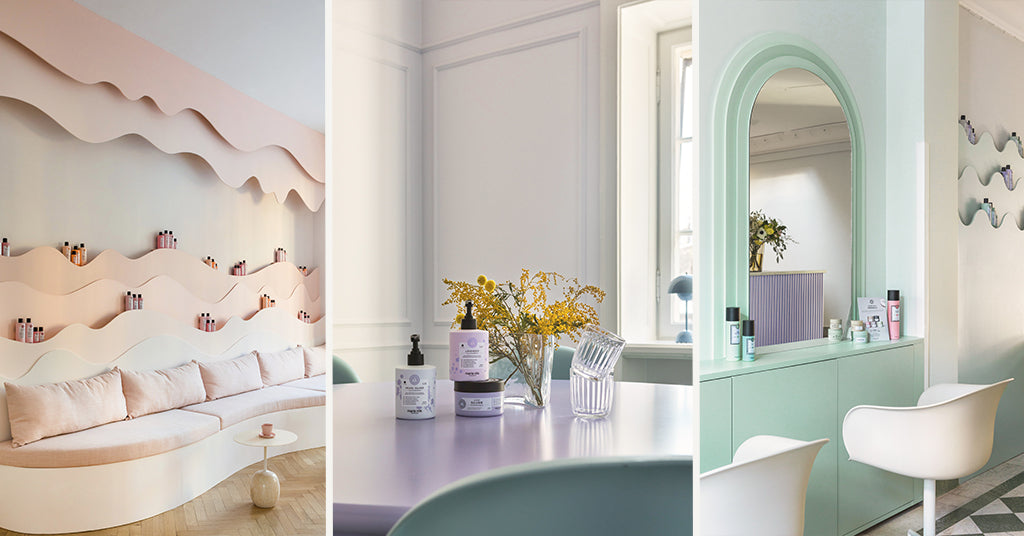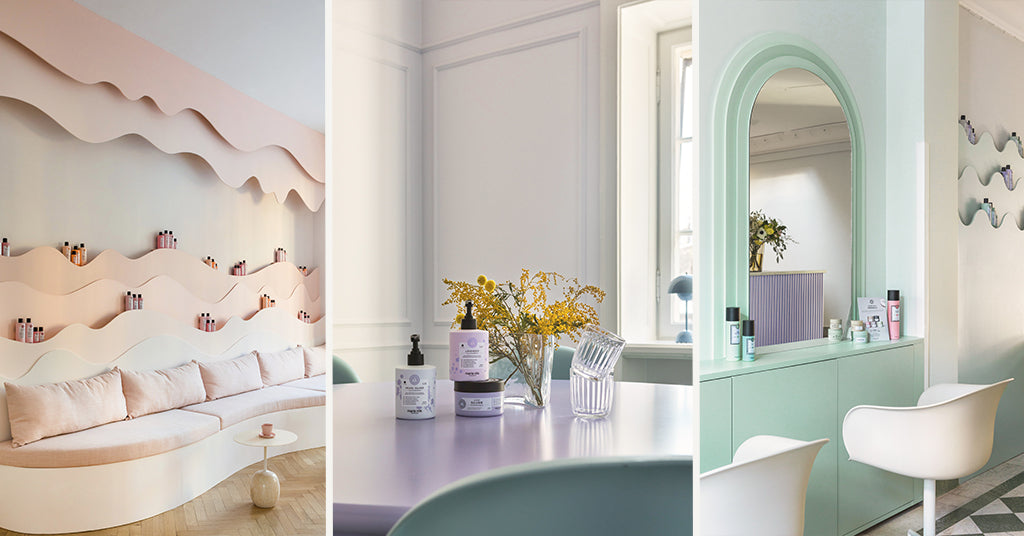 House of Maria Nila
This spring, the Swedish hair care company Maria Nila opens the doors to their new home and beauty hub in an urban area within the city district of Östermalm, Stockholm. Triple the size of the old office, Maria Nila now moves the headquarter to grow along the vision to become leading in sustainable beauty.
The concept of the House of Maria Nila is to always be inviting, have an air of friendliness and encourage a modern way of expressing beauty. While the townhouse Maria Nila now calls home is located in Lärkstaden, an area fully built on the design that dominated Swedish architecture in the early days of the twentieth century, it's clear that the inside speaks young-at-heart and playful.
With a wish to not compromise with the old soul of the house, Maria Nila asked the new and upcoming architecture firm ASKA to take on the mission to create an interior that would mirror the values of the brand; Friendly, Curious and Honest. A task that fitted well with the philosophy of the trio. ASKA's belief is that styles, design expressions and epochs will pass with time. But the essential architectural qualities, the residuals – aska in Swedish, will always remain. With the use of pastel colours, round shapes and soft materials ASKA has mixed the old soul of the building with the young spirit and energy of Maria Nila.
"As we identified Maria Nila as a dynamic and creative workplace, we wanted to reflect that inthe environment by bringing in objects from young, innovative and up-to-date creators. Examples arethe several tables and the iconic mirror by furniture designer Gustaf Westman, the "I Choose Friendly" sign designed by LED artist Josefin Eklund and cafe tables designed by Julia Benon for Folk22."
- ASKA
The interior is designed to inspire to sustainable beauty concepts on a new level. While production occurs in the factory in Helsingborg, Maria Nila headquarters in Stockholm covers all from innovation and brand design to marketing and sales. Other than department rooms, the 4 floors and 600sqmtownhouse consists of social areas for informal meetings. With large conference rooms, lounge areas with fireplaces, an open kitchen, a private backyard and of course, a hair salon to experience Maria Nila's assortment fully, the House of Maria Nila is ready to invite new family members and host gatherings for friends of the brand.
"This is clearly a big step for us a company but also as a brand, the townhouse really embodies the values of Maria Nila. It enables us to invite collaborators and inspiring creators who want to share our journey on making it easier for everyone to take a step towards a friendlier world."
–Marcus Wikström, CEO Maria Nila.
Architects: ASKA
Photography: Mikael Lundblad